You see it every day: Floor markings in all areas of production, logistics, hallways or road traffic. Mostly we do not pay much attention to them, but you as the person responsible know that floor markings are an important part of public and operational organization. They demarcate areas, protect employees and goods from danger and visualize escape routes and emergency routes. And, in addition to the safety aspects, there is another central factor: Smart floor markings make a significant contribution to efficient production processes - in terms of LEAN production.

Floor markings have to accomplish a lot - and withstand a lot
Whether parking spaces, hall markings, escape routes and rescue routes or driveways: Floor markings have to withstand immense strains and stresses. Temperature fluctuations, drive over with lift trucks and vehicles that sometimes weigh tons may not affect visibility, coloring and adhesion.
Missing or insufficient floor markings are the main reason for missing or incorrectly assigned materials in production, assembly or logistics.
Simpler than you think: Use floor markings in a target-oriented mannerals
Even though the subject of floor markings is important for the industry, the definition of color coding systems and legal regulations is nonuniform and inconsistent internationally. Every country has its own standards - there are hardly any uniform color assignments for certain goods or hazardous areas.
As a LEAN specialist, I am on site at the production facilities of different organizations nearly every day of my life and am well aware of the questions and uncertainties regarding correct and efficient floor marking. This article is intended to serve as a kind of guideline and to provide initial clarity. Basic information facilitates the implementation of accurately fitting floor markings based on a color coding system for specialists and managers and all those who are involved in LEAN, as in storage and production.
Why floor markings?
The most important advantages of floor markings. Some floor markings are mandatory and clearly defined by the respective legislators. But there are other good reasons to install a floor marking color coding system in your company.


5 Advantages of Floor Markings
Advantage 1:
Floor markings simplify navigation within your storage and production facility for everyone: internal and external.
Advantage 2:
Visual guidance: Clear lines and shapes avoid wrong assignments, reduce search times and thus increase the efficiency of your employees.
Advantage 3:
First aid: In emergencies, first responders can quickly and easily identify personnel and equipment.
Advantage 4:
Language doesn't matter! Language barriers are being broken down, because green is green and blue is blue - worldwide. This also makes working easier and safer for employees who do not speak the local language perfectly.
Advantage 5:
An explicit color coding system for the floor markings guarantees the accessibility of important areas at all times.
By using FATH floor markings, you opt for hard-wearing and durable (longlife) quality adhesive tapes that are quick, easy and straightforward to use. Another strong advantage: the adhesive tapes can also be easily removed at any time. At FATH, we place particular emphasis on durability, robustness and versatility for every area of application of floor markings where the composition of the ingredients is concerned.
Which legal stipulations must be observed for floor markings?
Unfortunately, this cannot be answered generally. Every country can define its own conditions and issue regulations for the correct use of floor markings. In Germany, the regulations for the correct use of floor markings are regulated in the Technische Regeln für Arbeitsstätten (Technical Rules for Workplaces (ASR A1.3)).


The regulations listed below apply in Germany with regard to the marking of lanes and aisles:

""If the marking is applied to the floor, this can be achieved, for example, by means of strips of a width of at least 5cm or a comparable row of raised pavement markers (at least three markers per meter), in a clearly visible color - preferably white or yellow - contrasting sufficiently from the color of the floor surface". (Source: ASR A1.3)
Please refer to Technische Regeln für Arbeitsstätten ASR A1.3 - "Sicherheits- und Gesundheitsschutzkennzeichnung" (Safety and health protection labels) - at the website of the Federal Institute for Occupational Safety and Health. Direct link to ASR A1.3 (PDF)
The PDF file dates back to 2013, there have only been changes in 2017; those are highlighted in yellow in these excerpts: Changes ASR A1.3 January 2017 / Changes ASR A1.3 July 2017
Before you start applying floor markings, get information on the current regulations in your country and at the same time think about this important point: Should we install a color coding system in our organization or not? If so, you should give prior thought to these items: Which colors would we need? What should these colors signify? Which color means what?

Color Coding System Floor Markings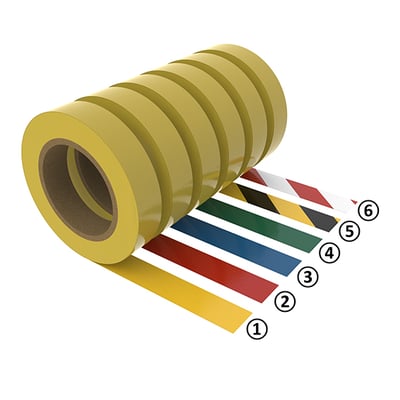 What do the different colors signify?

Monochrome Floor Markings

| | |
| --- | --- |
| ① Yellow | Aisles for use by vehicles or pedestrians |
| ② Red | Scrap, blocked stock or defective stock |
| ③ Blue | Materials for further processing |
| ④ Green | End products, finished products and goods |

Two-Colored (striped) Floor Markings
| | |
| --- | --- |
| ⑤ White/Red | Fire-extinguishing system and fire-fighting equipment, highly flammable materials and surfaces, non-smoking area |
| ⑥ Black/Yellow | Hazard area, height restrictions, width restrictions, radioactive materials, obstacles |


In Germany, the provisions of ASR A1.3 stipulate the following:
"Yellow and black stripes or red and white stripes must be used to permanently and visibly identify obstacles and hazard areas (safety markings). The stripes shall be arranged at an angle of inclination of approx. 45°. The width ratio of the stripes shall be 1:1. The marking shall match the dimensions of the obstacles or danger points."
Please observe the items listed below: Yellow and black stripes are preferably used for marking permanent obstacles and hazard areas. White and red stripes should be used for temporary obstacles and hazard areas. (Source: ASR A1.3).


Color Coding System for Industry & Production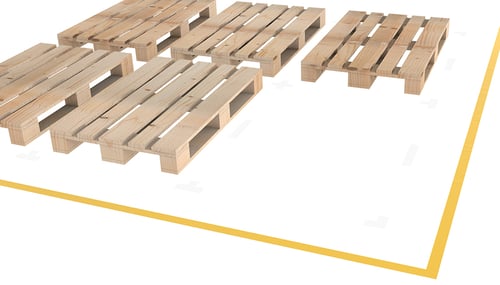 What do you need to consider in designing your floor marking system?
After careful consideration of the regulations applicable to your country and industry, You can design your own floor marking system. Would you like help from a floor-marking expert? Please contact us any time using the contact form below. A LEAN expert will support you free of charge in planning your floor marking system.

Basic Rules for Color Coding Systems
Less is more: Use as few colors as possible, as many as necessary.


Avoid similar color combinations: Choose contrasting colors for employees to distinguish them immediately and to preclude any danger of confusion.


Create detailed floor plans showing all color-coded areas. This generates a complete overview before applying any floor markings and prevents time-consuming and cost-intensive mistakes during implementation.


Discuss the color coding system with selected specialists and executives of your company. This not only creates transparency and encourages active participation in the workplace, it also prevents sources of error. Your best employees directly work for you in production every day. They know what is important: Tap this knowledge!
How to apply Floor Markings by FATH?
The floor markings produced by FATH can be applied to the floor manually or using an applicator - quickly and easily. However, FATH floor markings are not only particularly convenient to apply, they can also be removed again quickly. On the one hand, the flexible floor marking systems are designed to meet the demand for high robustness and resistance. On the other hand, they also fulfill the need to quickly adapt the floor markings in storage facilities and production lines in the event of operational change-overs or production conversions.
Would you like to learn more about the FATH Floor markings?
I would be pleased to personally advise you
In cooperation with an expert, you will achieve your goal faster when it comes to your floor markings and the design of a Color Coding System. Reach out to our sales team directly by filling in the contact form - we will get back to you as soon as possible.
I'm looking forward to receiving your inquiry!