Simply heavenly: Maximum free space at the workplace
The FATH Monitor Suspension Arm SKY can be mounted on the wall at any height. If the monitor is not needed, the complete suspension arm can be pushed upwards or sideways with one hand. The entire space under the floating arm is free and can be used for all work without any restrictions - even for space-consuming activities that require standing upright or walking around in the area of work. The Monitor Suspension Arm SKY is also equipped with a locking lever. This allows the monitor to be fixed in the position that suits your needs perfectly.
The FATH Monitor Suspension Arm SKY is the perfect solution for the provision of information during the production of large and very large objects.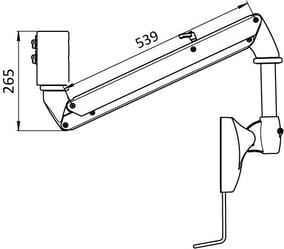 Lean Production: Ergonomic and highly flexible provision of information
The long suspension arm allows the provision of information on a large scale directly at the workplace - without taking up space on the floor or on the assembly table.
The height of the floating arm can be steplessly adjusted with the ergonomically positioned U-shaped steel handle, and the friction adjustment integrated in the joints enables tilting and turning. If the employee wants to view information, such as assembly instructions, etc., these are available within seconds. At the right time and exactly where they are needed.