Unique worldwide: Reusable (multi-use) Self-adhesive shelf labelings
This is new: The FATH self-adhesive shelf labelings are reusable again and again, as the innovative adhesive retains its adhesive ability after being removed without leaving any residue behind. The special adhesive smooths unevenness and offers excellent instant adhesion on almost all load-bearing substrates. Simply peel off the backing of the double-sided adhesive tape, press on and it's done!
If the shelf needs to be relabeled, the labeling can simply be removed again. While conventional adhesives leave stubborn residues, which have to be removed laboriously, the new self-adhesive FATH products can be removed in one piece completely residue-free. The adhesive sticks to the shelf labeling and can be immediately reattached elsewhere multiple times.
This is lean and sustainable: The fast and flexible transfer of labels saves working time. The reusability also saves resources and reduces the amount of waste.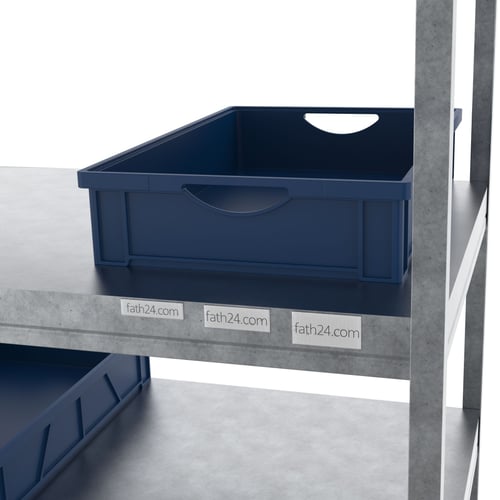 Magnetic: Insert shelf labelings in one step
The magnetic design of FATH Shelf Label Envelopes and Label Holders provide a strong grip on all ferrous surfaces. Once attached, the shelf labeling will remain in place, even withstanding strong vibrations, for example when storing goods with the forklift truck. If relabeling is required, the magnetic shelf labeling is simply removed and repositioned with one movement. The magnet is firmly bonded to the holder and guarantees stability and durability.
Optional: Cardboard inserts for label printing
Placement of shelf labeling could not be easier with FATH: Sheets of cardboard in DIN A4 format are available for all sizes – with microperforation in every label size. The sheets are suitable for any standard printer. Fill in templates, separate and insert labels, attach shelf labels – and your shelves are labeled accurately.