Smart logistics: The FATH Adapter Pallet makes the high-bay racking of dollies possible
With the FATH Adapter Pallet, dollies can be transported and stored particularly efficiently. The dollies can remain on the adapter pallet throughout the entire process chain. External transport by truck is possible without problems, as the dollies are locked automatically and fully loaded adapter pallets can be stacked on top of each other.
This enables seamless transport across the entire internal and external logistics chain - without repacking or restacking the SLC within the individual production steps. This allows material staging and logistical processes to be optimized and costs to be reduced.
If raw products or semi-finished products are delivered on adapter pallets, restacking at goods receipt is no longer necessary. The logistics chain for external finishing processes is significantly improving through the use of adapter pallets since the material doesn't need to be repacked for inter-plant transport.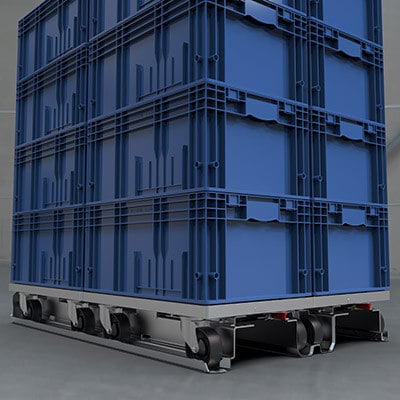 The FATH Adapter Pallet can be used with almost all standard dollies. In the 400 x 600 mm dimension, four fit on one pallet, two, in the 1200 x 800 mm dimension, one in the 800 x 600 mm dimension. The dollies can be loaded or stacked with other dollies as empties - this ensures highly efficient space utilization in logistics
Another advantage: The FATH Adapter Pallet is roller track compatible. It is recognized as a pallet by all common transport systems.