Versions for every material handling requirement
FATH Dollies are available for a wide range of applications. They are equipped with 4 swivel castors for rolling in any direction or precise tracking with 2 swivel castors and 2 fixed castors and are also available with a towing bar system suitable for a tugger train. In the tugger train version, the coupling is located on the underside of the dolly and doesn't protrude.
The towing bar can be folded out if necessary.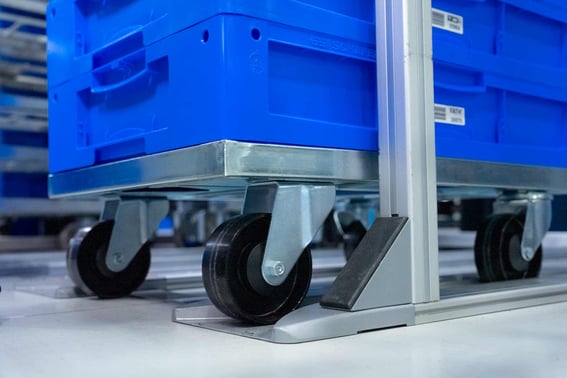 When it is no longer needed, it automatically folds back into a vertical position by means of a spring mechanism. This means that the dollies with a coupling and towiing bar can also be stored safely, save space and be transported on adapter pallets.

Side plates for containers without a deeper drawn base: If flat-bottomed crates are used for intralogistics, the version with side supports is optimal for transporting materials. The side plates are firmly welded to the long sides of the dollies, fix the containers in place and provide a secure hold without slipping or tipping, even when rolling over uneven surfaces.